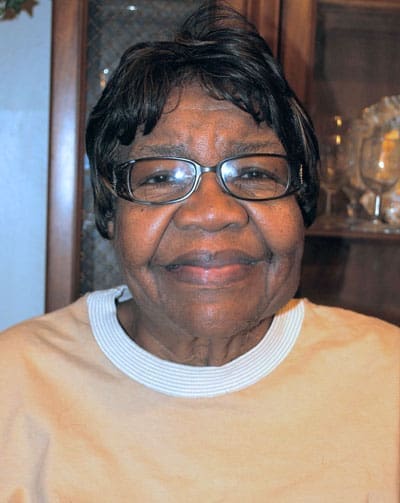 "Staying in my own home is important to me. This is where my 35 grandchildren come to see me." —Esther Temple
Many seniors are at risk of losing their independence because they can no longer live safely in their own homes. The Serve Our Seniors Program at Merced Housing Texas has assisted more than 500 people with critical repairs that give seniors and disabled persons a second chance to remain in their homes. We serve the people who have exhausted all other means to have their houses repaired.
"You all have truly been a blessing. I appreciate it with all of my heart."
Esther Temple moved to Texas from Florida in the 1950s. She was twenty years old and worked as a maid for years. Eventually, Esther attained her Licensed Vocational Nursing (LVN) degree and worked at the state mental hospital for many years. Along the way, she found time to be the mother of 11 children and now has 35 grandchildren. Her home on the east side of San Antonio, in the shadow of the AT&T Center, has been a gathering place for her family since 1975.
Yet as Esther ages and her arthritis makes it increasingly difficult for her to walk, it has become more difficult for her to live comfortably in her home. Family members help where they can, but a recent frozen pipe started a series of plumbing challenges. A local plumber took Esther's money and performed shoddy and incomplete work. "I gave him $600 and sewage still flowed in my yard."
Unable to gain satisfaction from the plumber, Esther's daughter turned to Merced Housing Texas. Merced not only helped Esther reroute the sewage line, but the staff understood Esther's desire to remain in her home. They discovered Esther had been bathing in a basin because she could no longer step up into her bathtub. The basin, she said, "was something you might use in a kitchen to soak chitlins."
Merced installed an accessible shower that Esther could walk into rather than have to step over. The shower now includes a shower seat and safety handlebars. These seemingly simple safety modifications have meant a tremendous difference to Esther. "I am able to get in and out of my shower without any problems and I now feel really safe thanks to you."
As staff worked with Esther on her bathroom, they discovered several other ways to help. These included replacing her sliding door with one that works and is more secure, purchasing a working refrigerator and fixing other minor issues in her home.
"I would like to thank Merced Housing for selecting and helping me to make my home the dream home that I have always dreamed about. For a disabled and elderly woman, you have helped me beyond my wildest dreams. Keep helping folks like me!"